Welcome
Federation of European Wado-kai is an organisation which follows, practices and teaches the Karate formed by JKF Wadokai in Japan.

We have members in various countries across Europe
dedicated to the teaching of Wado Kai Karate.
The name of our style is Wadoryu and has its origin in Shindo Yoshinryu Jujutsu and is therefore one of the most genuine Japanese forms of karate.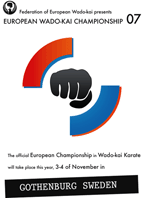 Results from the 2007 European Wado-kai Cup is up on our
EWC 07 minisite.

EWC07 Minisite